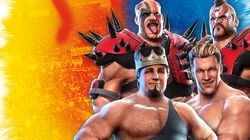 The All-Time Greats Pack is downloadable content for WWE All Stars that contain the Legion of Doom (Animal and Hawk), Jerry "The King" Lawler, and Chris Jericho.
The pack was released for download on July 5, 2011 for a suggested purchase cost of 320 Microsoft Points or $3.99 via PlayStation Network. [1] [2]
ReferencesEdit
Ad blocker interference detected!
Wikia is a free-to-use site that makes money from advertising. We have a modified experience for viewers using ad blockers

Wikia is not accessible if you've made further modifications. Remove the custom ad blocker rule(s) and the page will load as expected.